Paisley's Web Page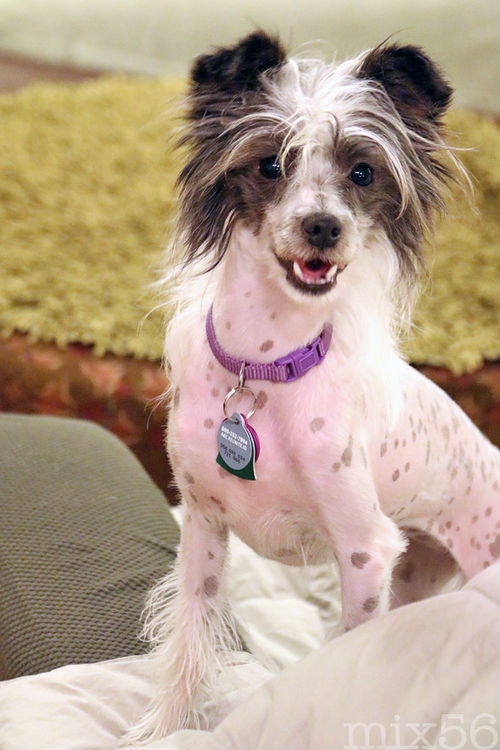 Name: Paisley
Status: Adopted!
Species: Dog
Breed: Chinese Crested-Powder Puff (medium coat)
Pattern: Bicolor
Sex: Female (spayed)
Current Size: 8 Pounds
General Potential Size: Small
Current Age: 7 Years 7 Months (best estimate)
Activity Level: Highly Active
Indoor or Outdoor: Indoor Only
Good with Dogs: Yes
Good with Kids: Yes
Housetrained: Yes
Microchipped: Yes
Description:
SWEET PAISLEY HAS AN ADOPTION PENDING, BUT PLEASE TAKE A LOOK AT OUR OTHER AMAZING DOGS IN NEED OF HOMES.
Meet Ms Paisley. She is a very hairy hairless Chinese Crested... practically a puff but so cute with her summer cut and those cute spots all over! She's young, under one year old, and tiny, only 8 pounds.

Paisley is the sweetest, most loving dog who also loves to play and run around in the back yard. She plays with her foster sister, Liz, all the time but not so much with the bigger dogs in the house. She'd do best in a home with at least one other small dog.

She also loves to chew on toys. When it is time to relax on the couch, Paisley is ready to snuggle with her humans. She goes potty outside when kept on a regular schedule. She is pretty much the perfect dog. Paisley is being fostered in Yorktown, VA.
Other Pictures of Paisley (click to see larger version):

578.9k

20.9k

592.9k

638.1k

442.4k

37.6k