Nanette's Web Page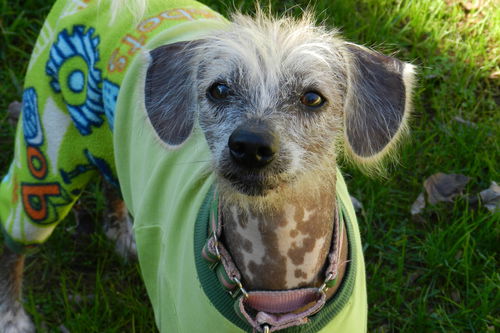 Name: Nanette
Status: Adopted!
Species: Dog
Breed: Chinese Crested-Hairless
Learn more about the Chinese Crested-Hairless.
Sex: Female (spayed)
Current Size: 18 Pounds
General Potential Size: Small
Current Age: 12 Years 2 Months (best estimate)
Activity Level: Moderately Active
Indoor or Outdoor: Indoor Only
Good with Cats: Yes
Housetrained: Yes
Description:
Nanette has an adoption pending. Please consider another one of our wonderful rescue dogs.

Nanette is a lovely 'true hairless' Chinese Crested girl, approximately five years old, with a loving personality and a spunky side. She is somewhat big for a CC, approximately 18 pounds, and she loves playing with squeaky toys, going on walks, and meeting new people.

Nanette loves to stand and walk/dance around. She is very sweet and on the needy side... she loves attention! She would do best in a home with people who are around more often than not, and where she can go on walks, hikes, errands etc. She enjoys meeting new people. She is also house trained and not destructive at all in the house. She is trusted out loose while her foster mom is at work.

Our goal is to place Nanette in a forever home where she has the greatest chance of success, based on our observations of her in foster care. Nanette has insecurity issues around other dogs and would do best either as an only dog, or with one other very confident and balanced dog that will be a good role model for her. She is being fostered alongside two very confident dogs and they're all getting along very well. With weaker or insecure dogs, she can try to assert dominance in inappropriate ways. However, when the other dogs are confident, she submits to them and then they play, get along great, share toys, run zoomies around the yard, etc. She is being fostered alongside two cats and has no issues there.

She's a very good girl who, in the right home, will be a joy! We'd like to see her go to a home with a strong, confident dog leader and without young children. Everyone in the household would need to be on board with supporting her training and good behavior. She deserves a great second chance at a happy life. If you're interested in providing that for her, please inquire about her or, go ahead and apply. She's being fostered in Greenville, South Carolina.
Other Pictures of Nanette (click to see larger version):

2450.1k

2471.9k

4801.5k

1592.3k

4305.3k

2350.2k

35k

2551.7k

4105.9k

4251.2k

2308.7k

1287.6k